New Home Weekly Fleets throughout the country. Call 800-669-0322 to see if you qualify.
Shaffer Trucking
has a proud history of serving the nation's largest food and temperature-sensitive shippers. Founded in 1937, Shaffer's roots run deep in the central Pennsylvania area of New Kingstown, outside of Harrisburg. Since joining the Crete organization in 1974, Shaffer has continued to build on its reputation as one of the nation's premier providers of temperature-sensitive truckload services. In 2003, Sunflower Carriers, another Crete Carrier Company, was merged with Shaffer creating one of the largest refrigerated transportation fleets in the country. Today, Shaffer provides coast-to-coast, regional, and dedicated fleet services, operating 1,400 power units, and 2,800 state-of-the-art trailers. Shaffer is proud to be the premier transportation supplier to the candy, confection, and beverage industries, delivering more candy than any other carrier.
Top 50% average $96,034 per year
Starting OTR pay $.59 - $.65 cpm
We have new dedicated/regional fleets with more home time!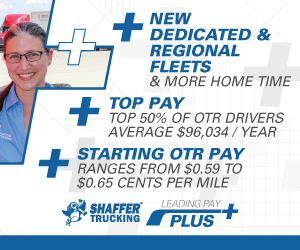 Haz-mat Endorsement (Ask a Recruiter)

Apply Online right now!


Hiring Area by State
Alabama
Arkansas
Connecticut
Delaware
Florida
Georgia
Illinois
Indiana
Iowa
Kansas
Kentucky
Louisiana
Maine
Maryland
Massachusetts
Michigan
Minnesota
Mississippi
Missouri
Nebraska
New Hampshire
New Jersey
New York
North Carolina
Ohio
Oklahoma
Pennsylvania
Rhode Island
South Carolina
Tennessee
Texas
Vermont
Virginia
Washington D.C.
West Virginia
Wisconsin