Founded in 1987, TransAm Trucking earned its status as the premier carrier in the temperature-controlled freight industry by providing its customers with superior service that exceeds their expectations. Initially founded with 70 tractors and 100 trailers, TransAm has expanded beyond its first Kansas City, Missouri facility and now operates a fleet of over 1,000 tractors and over 1,900 trailers out of its headquarters in nearby Olathe, Kansas. TransAm also maintains a fully-staffed terminal, driver's center, and maintenance facility in Rockwall, Texas as well as a maintenance and orientation facility in Tampa, Florida.
Owner Operators
$1.04/mile loaded & empty
$2,500 sign-on bonus
$125/month retention bonus after one year of continuous service
Fuel surcharge paid (loaded & empty)
Paid base plates & permits
Optional Discount fuel network
Bonus program
100% lumper reimbursement
No hazmat
$40 Stop Pay (after 1st stop)
Paid reefer fuel & paid tolls
Free Transflo remote paperwork processing
Passenger plan
Late-model leasing opportunities available
Requirements:
Valid CDL-A
Minimum 21-years-old
No DUI convictions in last 2 years
No more than 1 preventable accident in the last 6-month period
No more than 2 preventable accidents in the last 12-month period
No more than 3 moving violations in a 3-year period
No reckless driving violations in the last 5 years
DOT physical & drug screen required
Required to take the tractor and trailer home during home time and must have a secure place to park the equipment at home location

TransAm Trucking serves the Midwest, Mid-South, Northeast, and Southeast.
Truck driving is a noble profession. That's why TransAm treats drivers with the respect they deserve. Drivers interested in applying should contact 913-324-7110.
All amounts stated herein represent gross pay and are subject to change, and may be subject to driver-authorized deductions. Nothing contained herein is any warranty or guaranty of the amount that an Owner Operator will actually earn. There are many factors that can significantly affect the amount an Owner Operator will actually earn and the success of a contractor's business. TransAm Trucking is an Equal Opportunity Employer and expects the same of its Owner Operators with respect to their employees.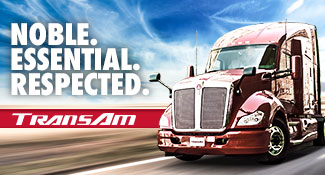 Hiring Area by State
Alabama
Arkansas
Colorado
Connecticut
Delaware
Florida
Georgia
Illinois
Indiana
Iowa
Kansas
Kentucky
Louisiana
Maine
Maryland
Massachusetts
Michigan
Minnesota
Mississippi
Missouri
Nebraska
New Hampshire
New Jersey
New Mexico
New York
North Carolina
Ohio
Oklahoma
Pennsylvania
Rhode Island
South Carolina
South Dakota
Texas
Vermont
Virginia
Washington D.C.
West Virginia
Wisconsin
Wyoming